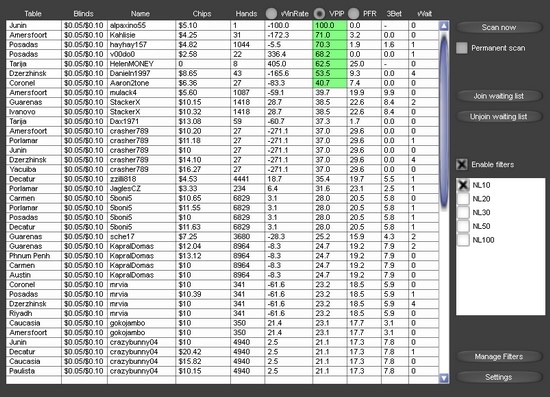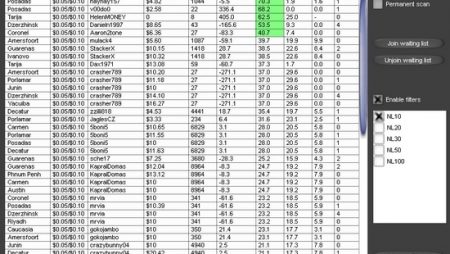 Poker for avid players is not only entertainment and a favorite hobby, but also a great way to make good money. However, not being a professional of the highest standard, you can not only earn nothing, but generally go into a minus, which is undesirable. Competent players never play at random – they try to find a table with the most convenient opponents, because there you can earn extra money without stressing or risking anything.
But looking for weak rivals manually is a long time, and you can lose a lot of money along the way. You can save yourself from unnecessary torment and financial losses using the Smart Table Scanner tool.
Do you think a real professional is the one who collects and analyzes the most complete statistics about his opponents? Leave it to artificial intelligence – it will cope with the task many times faster than a living person, and, unlike him, has less chance of making a mistake. Smart Table Scanner evaluates the players at the tables in the shortest possible time and calculates the profitability of the game at each of them, promptly placing you exactly where there are the highest chances of success.
How it works?
The program is designed to analyze players in cash games. The only drawback of Smart Table Scanner is not too wide coverage of poker rooms (for now), but at least 888poker and iPoker network rooms are supported, and soon they promise to connect PokerStars as well. But the software is very confident in them – it will put you at a suitable table as quickly as possible.
At the same time, it is not some abstract table with newcomers at it that is considered "easy" – you yourself choose the parameters for defining an interesting table, that is, theoretically the program can be used in order not to cheat, but to look for really worthy opponents.
Unlike some competing programs, Smart Table Scanner does not force the user to sit down – it only shows a list of tables that satisfy your needs, and you yourself decide which one to sit at. If nothing has been found by the user-specified parameters yet, the program puts it in the queue.
It is noteworthy that the software is designed even for rather weak computers – it needs only 2 gigabytes of RAM, which is already a trifle in our times. The license, depending on your limits, will cost from 20 to 80 dollars, which is also very loyal.