Pros
27% Rakeback
100% up to $2,000 Welcome Bonus
Available in several languages.
Global player pool
Players can negotiate withdrawal limits
Cons
Very little action at higher stakes
It takes a long time to withdraw cash
Doesn't support trackers
HighStakes was founded in 2018 and is gaining popularity among online poker sites. It uses an independent poker network and operates on Curacao License. Initially, it was part of the GG-Network but switched to Tony Bet in 2018. As the name suggests, HighStakes poker allows you to play nose bleeds and high stakes games. The site primarily focuses on high rollers and rich people in business.
The limit at HighStakes goes all the way to NL$1000/$2000. You can also request private tables to bet even more. HighStakes allow you to play with legendary players like "fullFlush1" Joseph Cheong and Schwartz. The game runs on US dollars, and Euro tables are not offered currently.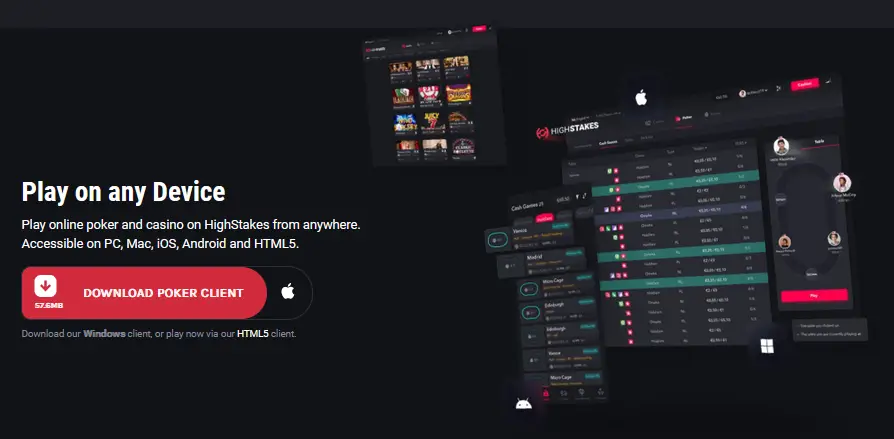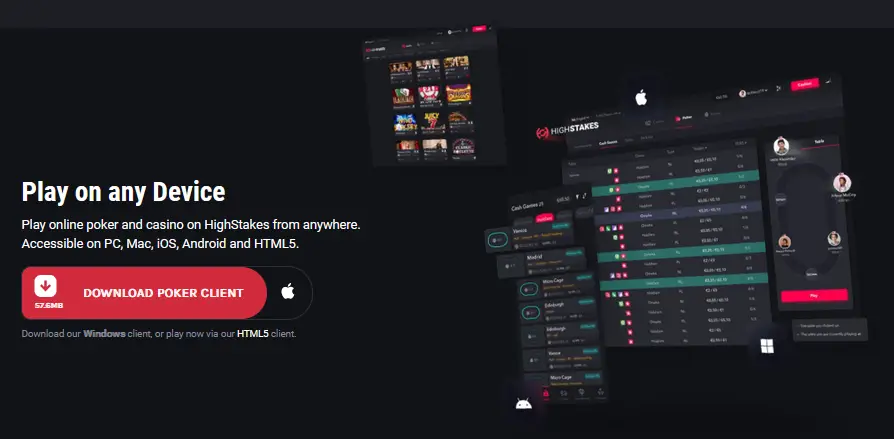 It is the highest form of poker with respect to technology, and they have made sure all the safety standards are followed. Very reliable software known for its security is used in the app. You are also provided with swift customer service via email for all your problems and questions.
Registration Process for High Stake Poker
You can directly or indirectly link to any site to get redirected to the HighStakes poker site. You can add your details at the site, including username, password, email, and country, to finish up registration. After your first deposit, you get a 27% rake back, which is paid weekly. You are also given a $2000 welcome bonus by HighStakes poker. To get linked with high stake poker, follow the steps mentioned below:
Step 1: Open a window and erase all the cookies. Erasing cookies is an important step. Open the page and download the instructions.
Step 2: add all your personal details such as your name, password, username, county, and email id. Once you fill up the details, it will lead towards registration. A verification code will be sent to your mentioned email ID. Verify your account and login into high stake poker.
Step 3: Make a deposit and stay playing. You will get a rack back of up to 27% at your first deposit. You can claim up to $2000 as a welcome bonus.
Step 4: add your username for tracking your account. This will lead to the login page and enter your username and password.
HighStakes Poker Promotions
One of the most popular and high-value promotions is offered by HighStakes. You get a weekly 27 percent rake back and another 11 US dollars on your first deposit. You are also given a $2000 welcome bonus after your first deposit. The bonus is given in $5 segments, and the player has 90 days to clear his bonus.
Rake Back at HighStakes Poker
HighStakes give stakes back every Monday directly to your account. You get a weekly 27 percent rake back and another 11 US dollars on your first deposit. You are also given a $2000 welcome bonus after your first deposit.
Free Rolls at HighStakes Poker
The ideal way to boost your bankroll without risking money is by HighStakes Freerolls. You can turn a balance of zero in your account into a bankroll. Freerolls are the most exciting and appealing for every poker player.
HighStakes App Compatibility
HighStakes allow you to play online poker at any time anywhere around the globe. You can access Highstakespoker.com anywhere using Android, iOS, Mac PC, or HTML5. The login process is quite easy and it has high traffic all the time. So, you don't have to wait for hours for the game to start.
Payment Options for High Stake Poker
HighStakes offers various deposit and withdrawals options, and you will easily choose your preferred payment option. My High Poker's full list of payment options is mentioned as Pay safe, Neteller, Asian banking, visa, Mastercard, diners, direct debit, bank transfer, Indian banking, Klarna, etc. Apart from this, the High-stake offers special services for big players and high rollers, and the transaction can be negotiated.
HighStakes Poker Software
Playing cash games at HighStakes Poker is just conceivable in the wake of downloading and enrolling on the client programming, one of the main stages for web-based poker rooms. The client is utilized in other Tony bet network poker rooms, varying in a dull shading for the principal entryway and tables.
You can get to OFC in a different tab inside the entryway. The game menu gives three channels to assist you with picking a game to play. The anteroom's design makes it conceivable to pick tables you wish to play.
As you continue to play your beloved game, you can likewise see the other players' monikers, making it conceivable to realize who you're playing against. The format likewise permits you to use holding up records as you bargain inside the poker room.
Regardless of whether you play on PC or some other stage, it's feasible to tweak your bet sizes while still drawing in at the table. You can likewise change the card deck in settings, which is incomprehensible in other poker rooms.
HighStakes Poker makes it workable for you to play poker for genuine cash from any place, utilizing any gadget. You can get to the stage on Windows, macOS, iOS, Android, and HTML5. In any case, the stage doesn't permit players to utilize outsider following programming. Accordingly, you can hope to restrict yourself to the choices given by the stage.
HighStakes Restricted Countries
HighStakes are widely available in almost all the countries, with the exception of Afghanistan, Iran, Curacao, Netherlands, Thailand, and the USA.
Conclusion For HighStakes Poker Review
It is a great site for professional players and high rollers as you get the softest high-stakes tables in the market. Competition is fairly soft, allowing mid-stakes players to get a chance at nose bleeds. The system is very generous and gives a 27 percent rake back.
HEM/PT Compatibility- No
Rake Structure – 5%
NLH 6max – 5c/10c – $500/$1000
PLO 6max – 5c/10c – $100/$200
Short Deck – 5c/10c – $2/$5
Company Name: HighStakes
Website: HighStakes.com
License: Curacao
Network: Independent
P2P Option: Yes
Skrill Loyalty: Yes
Email: support@highstakes.com
Phone: No
Live Chat: No