Pros
Doubles 100% bonus maximum to $2,000 for our players
Top 3 for USA real-money traffic
Largest tournament prize pools in US market
Unique game modes no other poker sites have
Cons
Does not block Heads Up Displays (HUD's)
Mobile software lacks all game modes
Concerns that they aren't protecting enough against bots
Americas Cardroom Review
Americas Cardroom is a US-based online poker site popular in the United States, Latin America, and Canada. It was founded in 2001 and had its headquarters in San Jose, Costa Rica. It entered the market where popular sites like party poker, paradise poker, and poker stars. American Cardroom became popular among these dominated poker sites. The room initially ran on the Dobro soft platform and moved later to the On Game network.
When 11 poker sites got banned in the US, the band renamed itself Winning Poker Network, and its flagship was America's Cardroom. In order to compete with bigger brands, the company leased iSOFT.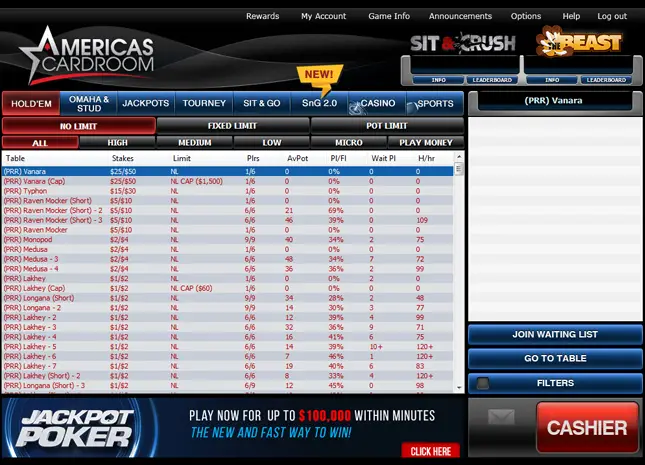 This was changed when the company upgraded to SJH. Americas Cardroom being offshore licensed makes it legal in all the US and the states that have banned poker, with Washington being an exception. Several changes made to the brand have ensured the safety of players and games integrity is maintained. As the latest ACR team pro, Moneymaker attracts a lot of newcomers to the site.
How Can You Sign Up at Americas Cardroom?
Signing up at America's Cardroom is very similar to other online poker sites. You just have to follow some basic steps in order for you to get signed up.
Clear cookies and open up the incognito window
Open Americas Cardroom website
Download the ACR poker client and then install it
Click on Create New Account
Fill in your nickname
Verify your email
Choose password
Deposit
You are good to go to play Americans Cardroom just like this.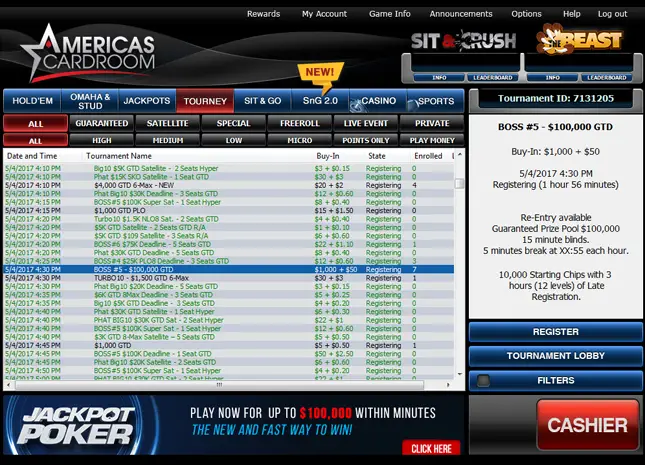 Is there a welcome bonus at Americas Cardroom?
Yes, Americas Cardroom offers you big welcome bonuses, and it won't disappoint. A first deposit 100 percent match welcome bonus is offered, up to $2000. It is pretty simple to get your first welcome bonus. You need to make your first deposit, which should be more than $25, and your bonus is automatically transferred to your account.
But if you are someone who has their eyes on a full $2000 bonus, then you must deposit $2k. New players do not commonly use this feature, but it is meant for grinders. For every 27.5 points, you are given an increment of $1. Elite Loyalty Program can earn these award points. You are given 60 days to use your first deposit, which is a lot of time to be able to do so.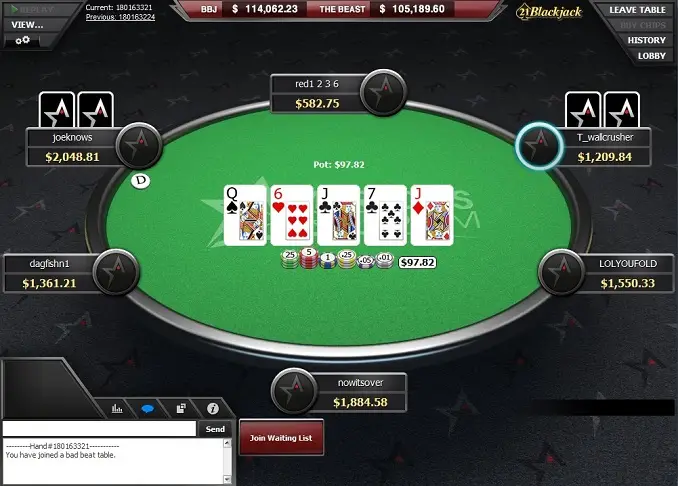 What makes Americas Cardroom Popular?
Aside from the welcome bonus, some other points make Americas Cardroom so popular. The points include:
Payment options at Americas Cardroom support Cryptocurrency
Multi-table tournaments offered
Fast withdrawal opportunities are available
Rake back that goes up to 27 percent
Lottery jackpot offered
Accommodates US markets
How is Americas Cardroom UI?
One option that poker players love is the opportunity to customize their poker table. The tables are very stylish and slick and add to the user experience on Americas Cardroom. As the software is upgraded to SJH studio, it has removed many bugs in the previous interface.
There was some accusation that poker sites were rigged; however, iTech labs have cleared it by auditing random number generators. The site concluded that ACR random number generator worked fine and was reliable. This is a great sign as Americas Cardroom takes security very seriously. Player to player transfers is also offered at the site. You are also able to see the average pot at any given table.
The lobby is pretty easy to navigate; however, the stats aren't accurate. Meaning the waiting list isn't very accurate as it should be. Besides this, there are some glitches, but the game works pretty smoothly overall.
Americas Cardroom was initially available on Mac and Windows but is also available on IOS and Android. However, the app version of Americas Cardroom doesn't have all the features which you get in its PC version. Hopefully, these features will be updated after their latest update.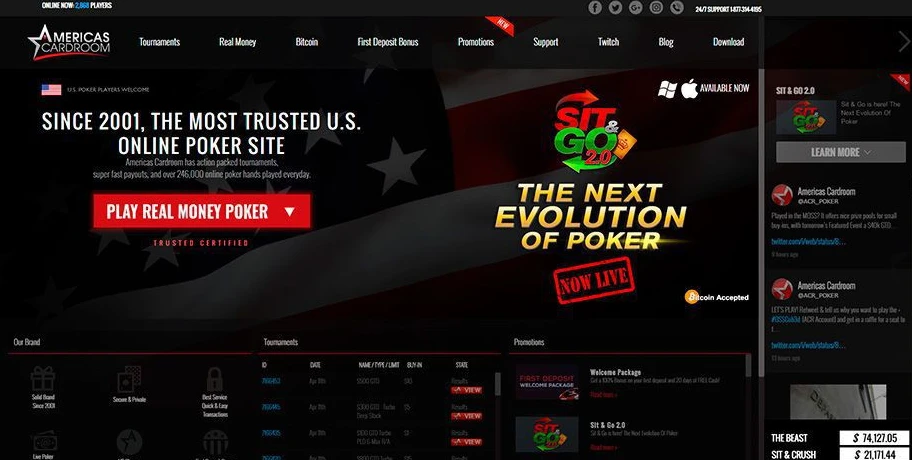 What Is the Traffic Overview and The Games Offered at ACR?
With Americas Cardroom not being a household name when it comes to the poker site, most folks would think that it may not have great traffic. However, you may be surprised that it has incredible traffic, with cardrooms having more than a thousand players at peak hours. Over a million hands are played by ACR players each day.
Multi-table tournaments that happen daily bring about 1000 players, and their million-dollar tournament draws double the players than regular days. You are also able to qualify for bigger tournaments that are run on satellite regularly at ACR. If you compare Americas Cardroom to other big poker sites in the US, you will see that it sits with those sites in various games.
The most popular real money game at Americas Cardroom is Texas Holdem, with up to stakes at $5 to $10. Most poker players find it pretty easy to find their preferred action. Pot-limit Omaha hi/lo and pot-limit Omaha games are also available, although they are not as popular. Seven-card stud and its hi/lo are also offered at Americas Cardroom.'
One game that makes Americas Card stand out is their lottery-style jackpot which is in sit-and-go style. It uses a random multiplier that calculates the prize pool. This is a great option for casual poker players at Americas Cardroom. The highest multiplier gives a 2500 times prize pool while the lowest one is 2 times buy-in. Americas Cardroom also offers a maximizer feature that gets you in jackpot games as soon as there is a seat available. You are allowed to play 10 tables of real money poker at one time; however, more than four becomes difficult to handle.
Does Americas Cardroom allow Tracking software like HUDs to be used?
Yes, you are allowed to use HUDs at the poker table. While many others prohibit HUDs, Americas Cardroom allows the use of HUDs. The same rule applies to other WPN skins and Black chip poker. This is a great feature offered by Americas Cardroom, which many players adore.