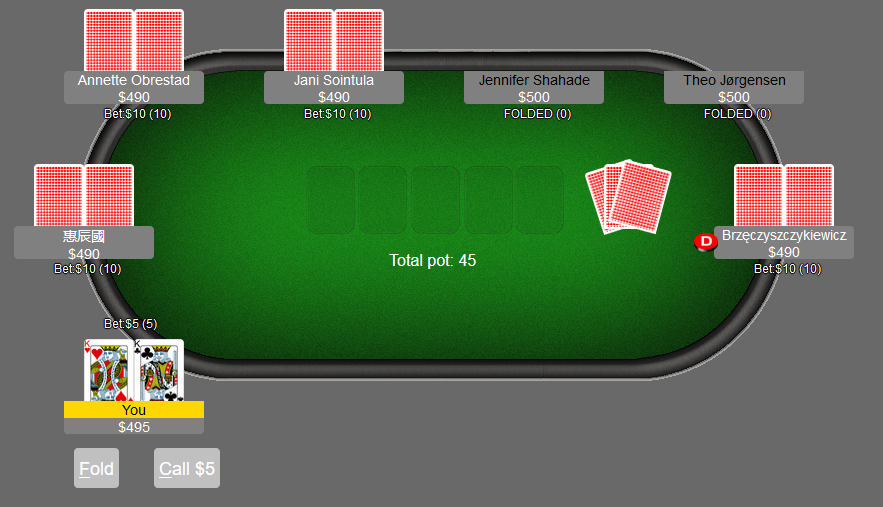 Poker.md Freeroll Weekend - participate for free and win $750 every week!
4x weekly $2500 GTD new player freeroll, each Sunday!

It can be interesting for both beginners and advanced players to play poker for free. With free cash game tables and tournaments, beginners have the opportunity to gain a risk-free online poker experience before they dare to play for real money. But even advanced players have the opportunity to train for free against similarly strong opponents and gain further experience in order to improve their game. And of course, there are also the freerolls, in which you can take part for free and win real money!
What you will find on free poker sites we recommend:
It's free to sign up and you can use your account without ever depositing real money
There are many cash game tables, Sit & Go, and tournaments with play money (fake money)
There are daily and weekly freeroll tournaments where you can win real money without wagering
You Can Play Without Wagering Money
Players who only want to play for play money are also welcome to visit the sites we recommend. Although you can play for real bets on all of these sites, each individual poker room also offers a large selection of free tables and tournaments. In order to be able to play poker for free with these providers, you only have to follow three steps below and you can start playing poker for free against players from all over the world in just a few minutes:
Register a free account on the site of your choice.
Log in to your account and search for "demo game", "practice game", or "play money" in the lobby of the poker site.
Choose from a variety of tables and tournaments and start playing right away.
These Games Are Offered For Free
Just like in online poker with real money, there are also cash game tables, SnGs, and MTTs with different bet levels you can take part with play money. When you register, you will receive a certain amount of points to your account. With this amount, it is possible to participate in many cash games and tournaments. However, there are also rounds in which mainly advanced players take part, and in which far more points are used than you get when you register. So you have to work your way up slowly and win at tables with smaller bets in order to have enough play money to compete against better opponents. But even if you lose all your points at the beginning, you shouldn't worry.
The poker sites we recommend offer a particularly large selection of game variants and tournament formats, and you can usually play all the games that are available for real money with play money. Here you can not only play Texas Hold'em for free, but also engage in many other lesser-known games such as Omaha, Stud, Triple Draw 2-7, Razz, and HORSE. Even action-packed, turbo variants of poker like Snap or Zoom are also available as free games.
What Does the Free Game Give Me?
Regardless of whether you are a beginner or an experienced poker player, you benefit from play money gambling because playing poker for free is fun and helps you improve your skills. With every poker hand, you play, you gain new experience, pick up your opponents' moves, and to internalize the processes of the game even better.
Even top-notch and experienced players use free poker sites to try out new poker variants or tournament formats and keep learning to get even better at playing for real money.
Even among long-time players with a rich experience, it is common to try out new game variants and tournament formats for free before they are thrown into a deep end and real money are at stake. For instance, if you are familiar with Texas Hold'em rules and want to try Omaha or Stud for the first time, a few hours of practice in Fun Mode are definitely recommended. Even if you have new strategies or trying out moves to see how your opponents react, playing free on the poker sites is surely advised. However, always keep in mind that the players in free mode are often much more aggressive and call or raise more easily than in online poker with real money.
Freerolls – Win Real Money Without Wagering!
If you want to play poker for free and still win real money, you only have one option: poker freerolls. These are tournaments in which you can participate as a registered member of the poker room without an entry fee. The poker site provides a prize pool, which is often $1,000 or more and is split among the top players in the free poker tournament. Since there can often be several thousand players involved, you usually need to hit at least the top 100 to win a prize. The winner will usually receive $100 or more. Since freeroll tournaments are very popular, you must register in advance to get a seat. At Poker.md you will also find an in-depth guide to the most successful ways to play online freerolls.
FAQ – Frequently Asked Questions
Where Can You Play Online Poker For Free?
Free online poker games represent all real poker sites. In addition to the possibilities to play for real money, there is a huge selection of games that can be used for play money. There are also many social gaming platforms like Facebook where you can play poker against other opponents from all over the world.
Why Should I Play Poker On a Live Poker Site And Not On Facebook?
The level of free games on real poker sites is much higher than, for instance, on Facebook or other social networks. In addition, live poker rooms are guaranteed to be 100% free and ad-free, while social poker games are funded through pay-per-use, in-app purchases, or annoying ads.
Are There Free Poker Apps For Phones And Tablets?
The best sites for free poker games also offer downloadable apps. Simply visit the provider's mobile website, in order to get access to the mobile poker room and start playing in practice mode.
Do I have to Provide Correct Personal Data When Registering?
With many providers, you only need to provide your email address, account name, and password and you can start playing right away. Your personal data will only be requested later, with some providers not even until you decide to play for real money. You definitely need to indicate the correct data, otherwise, there might be problems with the payouts.
Which Poker Site Has the Most Freerolls?
The best poker sites like BetOnline, Black Chip Poker, or Americas Cardroom have daily freerolls in their program. Check out the list of recommended poker sites for the providers that have the most freerolls on their tournament schedule.