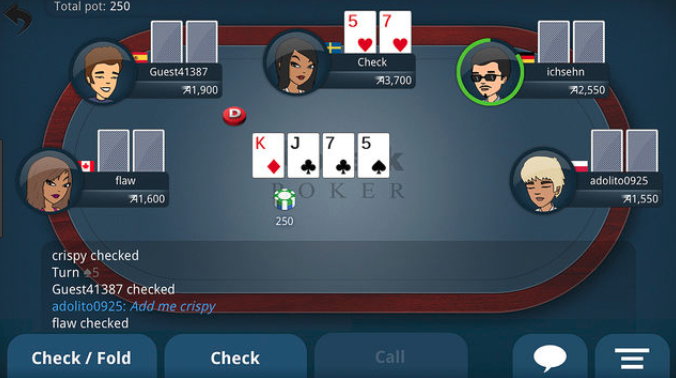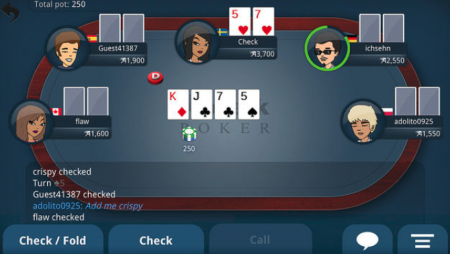 Poker has gained a lot of attention during the past few decades. In its early days, it was a game played by the rich. This has now changed. The creation of mobile apps has allowed people to participate in the game and enjoy it from their homes' comfort. You don't even need to have a lot of money to play. You can bet a minimum amount and try your luck on cashing in some real money.
Although there are plenty of free apps on both IOS and Android, not all are worth your time. That's just how it is. Today, we will talk about some of the best poker apps to download and start using right away. No matter if you are someone who is new to the game, or someone who needs no introduction to Poker, you will hopefully find an app for you in this article.

Appeak Poker
Appeak Poker is, by far, one of the best poker apps on the market. They have been attracting players from all over the world since the day they were launched. The Appeak Poker app is a free to play application available on all mobile devices, except for windows, unfortunately.
The app has a very simplified and straight forward user interface that allows you to get into a game in no time. Surprisingly, despite being a famous online app, Appeak Poker does not bother you with annoying ads all the time. The app has over 1 million downloads and over 70,000 active players. So, no more waiting to get into a game.
There are always many play-money games running on the app all the time. If you ever run out of chips, you can always log in the next day and get free chips. Appeak poker gives 1,000 free chips to the users on daily login. Of course, you can pay for buying more chips if you feel the need to do so.
The game already supported many major languages from around the world, but recently added Chinese to the system as well. It will further increase the number of players and downloads for sure. If you want to try Poker, you most certainly will not regret giving Appeak Poker a chance.
Storage Space: 27mb
Supported Platforms: iOS and Android
Pros: Simplified poker experience… Free chips every day… Free to play.
Cons: It needs an internet connection… It does not have any offline games to play.
World Poker Club
The World Poker Club is pretty much a standard poker app. It still gets a spot on the list for the best poker apps because it has all the features that a great poker app should. But the World Poker Club has something new to offer on the table.
While all the poker apps have the regular poker options, call, bet, and fold, this app came up with a bit of an innovation. The World Poker Club introduced the gesture system to play the game. Tapping on the screen and slowing moving your finger up will bring up the raise bar, a simple flick up is the gesture for fold, and a double-tap means call.
Many other apps now include this feature as well, but this app is the one that introduced this idea. And honestly, it works surprisingly well. You don't have problems where the gesture fails to detect your call. On the downside, the app will frequently pop up ads. However, the gesture system is a cool feature that you should try out for yourself.
Storage Space: 95mb
Supported Platforms: iOS and Android
Pros: User-friendly interface… Unique gesture system…
Cons: Ads keep showing up, which is kind of annoying…
Politaire
If you like to play Solitaire and are now starting to have some interest in Poker, Politaire is most definitely one of the best poker apps for you. It is pretty much a mindless game where you don't have to do much on your own.
The goal of the game is for you to form a five-card poker hand. You do so by discarding a maximum of three of the cards in your hand. You get to play through a deck of 52 cards.
The game does not have any high-end graphics and pretty much has minimalist color schemes. It is quite rare to find these days, considering all app developers want to make their app look as graphically impressive as possible. The game is $0.99 on the App Store. However, if you're going to play a double-deck game, you will have to buy that game mode for $1.99.
If you have no prior knowledge of Poker, this is a straightforward app that will help you memorize your hand so you can eventually build-up to the real game.
Storage Space: 150mb
Supported Platforms: iOS (for iPhone and iPad only)
Pros: Simple… Not much knowledge about Poker needed…
Cons: In-App ads can be a little annoying sometimes… Not available for Android…
Zynga Poker
The original Zynga poker was first launched on Facebook only. In 2015, it got a massive update that included Jump Poker. It is one of those few poker apps that even windows users get to enjoy.
For those new to the term "Jump Poker," it is a fast-paced version of the regular game. The difference is that the players immediately get to go to a new table as soon as they have folded. It pumps the action quite a lot because you are only playing a single table at a time.
Zynga Poker is, without doubt, one of the most played poker games ever. It has one of the busiest poker sites, which means you will never have to wait to find a Zynga Poker game. This is one reason why it is considered one of the best poker apps out there.
Storage Space: 97mb
Supported Platforms: iOS, Android and Windows
Pros: Jump poker is fun and exciting…
Cons: A relatively high level of advertisement spam… some tournaments still only available on Facebook.
Poker is a fun game for everyone to enjoy. As much as it requires a thorough knowledge of the game's rules, it also requires a little bit of luck to play Poker. Sometimes you win, sometimes you lose. But that is just about everything in life.
If you want to start learning the game of Poker, the apps mentioned above are one of the best poker apps in the market. Just remember, enjoy the game, and if you ever consider betting actual money, don't go for an amount that might cause you trouble. A single hand can change the entire game. So be safe, be smart, and enjoy the fun world of Poker.