Pros
Huge first deposit bonus up to $2,000
Free no deposit bonus
Large selection of poker options
Many satellite tournaments
Cons
A lot of tournaments support re-entry
Mostly No Limit Hold'em games
Cashout fees are a bit high
Black Chip Poker Review
The Winning Poker Network (WPN) has more than 12 years of history, and Black Chip Poker is a poker room member of the WPN. Black Chip Poker has been with the WPN since its inception in 2012.
BCP is well-known for its excellent customer service, and it ranks in the world's TOP10 online poker platforms. The company has always used only the best technologies, including IGSoft, Dobrosoft, and SJH Studio.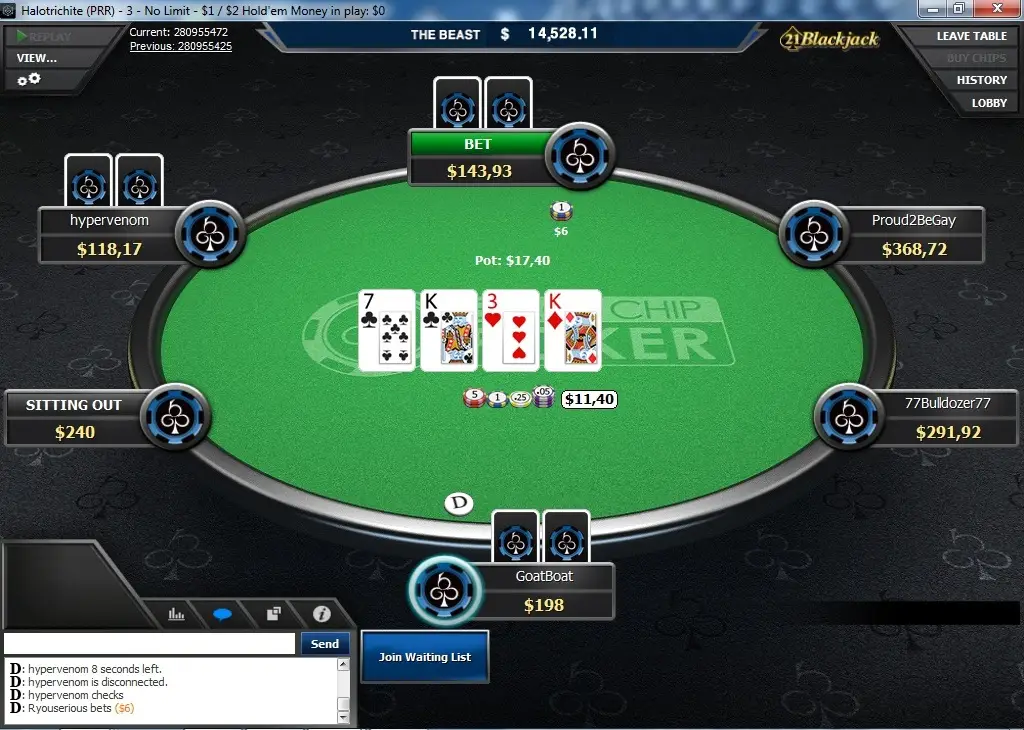 Black Chip Poker has become popular in recent years, especially among poker grinders who like the website because it allows HUDs. If you want to know more about BCP and whether it is the right poker platform for you, you have come to the right place!
Advantages of Using Black Chip Poker
Welcome Bonus
As an associate of the Winning Poker Network, Black Chip Poker offers the same welcome bonus as players on America's Cardroom. This deposit can go up to $2,000, making for a promising entry for all players.
All you need to make is an initial deposit of at least $25, and the bonus gets added straight to your account.
As you start using Black Chip Poker, you will earn Benefit Points through the Elite Benefits Loyalty program. For every 27.5 Benefit Points, you receive a bonus of $1.
However, keep in mind that the bonus matches only your first deposit. So if you want to get this wonderful deal, you will have to deposit $2,000 ins a single transaction. After you pay the deposit money, you will have 60 days to use the bonus given to you.
Private Depositors Freeroll
Along with the deposit bonus, Black Chip Poker also runs a private depositors freeroll every Saturday. At $250 per event, you will see around 100 players there. This modest number is because the event is open only to new depositors.
What Makes Black Chip Poker So Popular?
The welcome bonus is one of the many reasons that Black Chip Poker is growing in popularity. The website offers impressive guarantees, along with cryptocurrency support and a very wide range of poker events and tournaments.
Black Chip Poker also offers a flat Rakeback rate of 27% and generates decent traffic.
How Legit is Black Chip Poker?
BCP has almost 20 years of experience in the online poker industry across the United States, United Kingdom, and Canada. However, access is restricted in France, Italy, Turkey, and Spain.
Black Chip Poker runs under a license issued by Curacao Law International Processor Services, and it works within the legal framework of Costa Rica.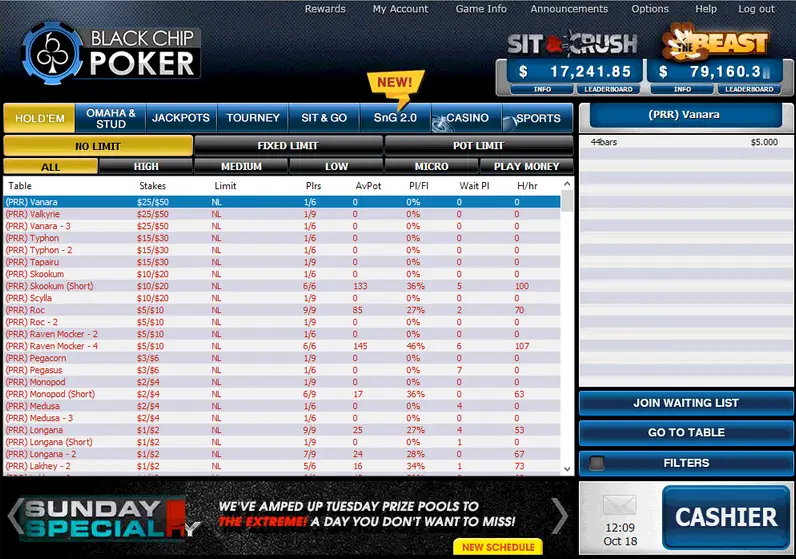 How Do You Sign Up on Black Chip Poker?
With this simple step-by-step guide, you can start gambling on Black Chip Poker:
Ensure that you clear your browser cookies.
Visit the Black Chip Poker website, and install the software.
Click on "Create New Account"
Type in your nickname and the verification code that the website will send to your email.
Set up a secure password and make your initial deposit.
Start playing Poker!
What is Black Chip Poker's User Interface Like?
Here's the good news. The UI for Black Chip Poker is similar to the ACR UI. That means you would get one solid client, which is not really thrilling, but enough to get the job done.
Additionally, you also get an endless number of customization options so you can design it according to your preferences. The lobby is also extremely easy to navigate through, and you can easily find your way through the website.
Thanks to the SJH software, you can now access the website through both mobile and MAC devices.
Interestingly enough, this brand has been at the tail end of its competitors for years. However, today, they stand as one of the best Black Chip Poker apps on the market, and it is available for both Android and iOS devices.
Games and Website Traffic: A Complete Overview
Did you know that Black Chip Poker is one of the top 10 poker sites worldwide? And this is in terms of player traffic.
In fact, the website sees around 1,000 to 1,500 visits every day! And this number doubles up on the days of major tournaments.
One of the major reasons for this website traffic is because Black Chip Poker is combined with America's Cardroom. The website itself works as a shared poker pool.
The seats of this poker pool get full in just a matter of seconds, especially during the sit-and-go games.
By now, you have understood that the website gets a lot of traffic. But what about the real games played for real money?
The most popular game on the website is No-Limit Texas Hold'em. The bets on this game start at micro stake levels and go to $5 or $10.
Other popular games include Pot-Limit Omaha Hi/Lo and Pot-Limit Omaha. However, the table at games like Seven Card Stud Hi/Lo and Seven Card Stud tables can be quite empty.
Black Chip Poker also has a fast-fold version which is called Blitz Poker. As the name implies, it is fast, and it works almost like the standard fast-fold type of No-Limit Hold'em.
On the other hand, you can try playing Jackpot Poker where the UI uses a random multiplier that can identify other prize pools. These values can get multiplied from anywhere, and the numbers go two times up to 2,500 times since the buy-in.
The website also has a unique feature known as "maximizer," where you can play 10 Jackpot tables at one go. However, a few satellites allow you to access live poker events on the website.
Is It Possible to Use Software Like HUDs?
Yes, absolutely! This feature is one of the main highlights of Black Chip Poker, especially for grinders who use software like trackers.
The only disadvantage to using HUD software like Holdem Manager 3 is that it makes you look like bait in a sea full of sharks. However, this tactic can still prove beneficial if you are looking to build on your game.
You cannot expect to find a lot of soft poker games to enjoy chill online poker sessions.
What are Rake and Rakeback?
For most of the gaming formats on this website, the rake is set at 5%.
But, here is the interesting thing – You can get a Rakeback rate of flat 27%! And the best thing is that it is an offer up for grabs for everyone on Black Chip Poker.
And, don't worry, because this amount gets paid out every week. You can also regularly keep track of how much Rakeback value you have earned by checking your account.
However, there is another interesting deal on the site, which is called the Elite Benefits program. Based on your interest, you can decide whether you want to join this program or the Rakeback Deal on Black Chip Poker.
The Elite Benefits program has various loyalty levels that are a tad bit different from ACR. That is because ACR has a more military-based flavor. However, even Black Chip Poker is very poker-oriented, which makes it easy to understand.
The levels on Black Chip Poker are:
A player – 0 BP
A rounder – 750 BP
A grinder – 3,000 BP
A veteran – 7,500 BP
A legend – 100,000 BP
An icon – 1,000,000 BP
The top 4 levels (player, rounder, grinder, and veteran) are solely based on benefit points (BP). These get paid out every month. The last two levels (legend and icon) are totals made yearly.
Suppose you have chosen a Rakeback deal and would like to switch to the other program; you can do so. This switch even works vice-versa. However, you can only do this switch once.
What are the Restrictions at Black Chip Poker?
The only restrictions on the site relate to age and location.
In terms of age, the users on the site must be over legal age or at least 18 years old. For most US players, users need to be over 21 years of age.
In terms of location, users from the following countries cannot use this website:
Australia
French Guyana
Guadeloupe
Martinique
Réunion
Spain
France
Turkey
Italy
Sweden
As well as players from states within the US that have banned online poker websites (including Delaware, Nevada, Pennsylvania) cannot access the site. The best thing to do is to regularly check with these restrictions from time to time so you can use the website without facing any issues.
What are the Tournaments at Black Chip Poker?
One of the major highlights of Black Chip Poker is their tournaments. And the best part is that they happen throughout the week!
All these tournaments come with big guarantees of almost $1,000 to $5,000 every hour. However, for weekly tournaments, these wins can increase to a whopping $50,000 at a low buying amount of just $100!
What are the Promotions and Campaigns?
What makes this site a worthwhile hobby is the promotions. For starters, the site offers a 100% deposit bonus that can go up to $2,000. And new users can get up to $250 worth of freerolls. However, you can also get $50 freerolls that are available throughout the day.
"The Beast" (aka the weekly leaderboard) can take a tiny percentage of all rakes and adds it to the weekly prize pool. Moreover, the site also rewards the week's top 800 users, and they can bag cash prizes and tickets to fancy tournaments!
However, you also have the Sit & Go tournaments and a couple of Cyclone Blitz tournaments.
What is the Loyalty Program?
Black Chip Poker rewards its users with real cash prizes just by playing games and other weekly challenges.
How Can You Make Deposits and Withdrawals?
Like every other poker website, Black Chip Poker also has the standard means of depositing and withdrawing money. However, there is one new addition that is perfect for all those who prefer a little anonymity!
Ways to Deposit
Mastercard
Neteller
Skrill
Visa
Bitcoin
Ways to Withdraw
Mastercard
Neteller
Skrill
Visa
Bitcoin
What are the Pros and Cons of Black Chip Poker?
Some of the features that make Black Chip Poker unique are:
Americans generate the majority of the website traffic
New game additions
Huge Rakeback options
Site is HUD-friendly
The site has an MTT grid that promises huge sums of money
On the contrary, some users may not like the site for its:
Tables crowded with regulars
Cryptocurrency payment