Pros
Fast payment processing.
20% rakeback program.
Blockchain-based security
Easy to access
Large number of community promos
Cons
No welcome bonus
Limited sports betting
A small player community for now
CoinPoker, created by ambitious poker lovers, uses innovative blockchain technology. It is based on cryptocurrency, especially USDT as the main currency. Secure and instant transactions can take place in CoinPoker and primarily use BTC, ETH, USDT, and CHP. Players get privileges and promotions in fiat value each week.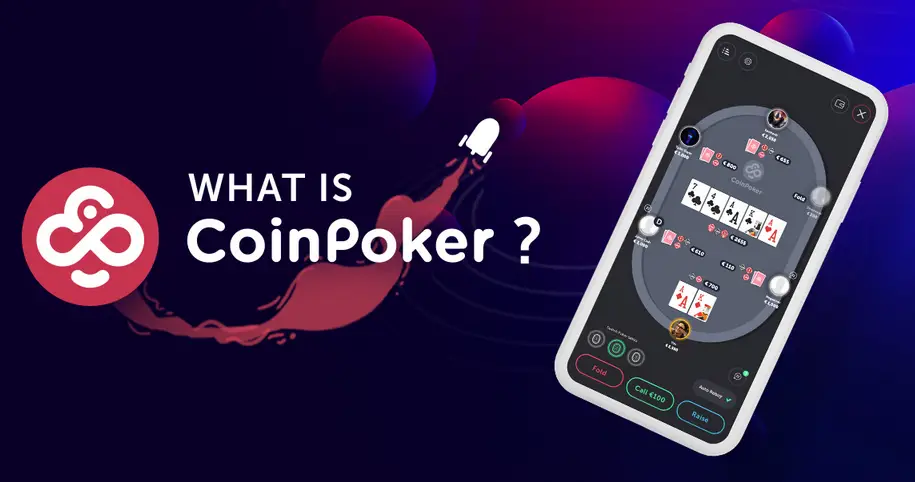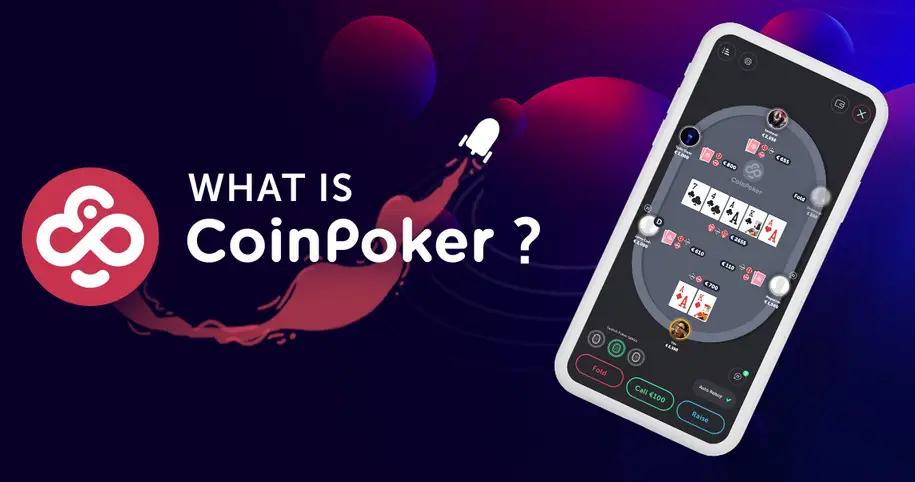 As CoinPoker works slightly differently compared with traditional poker apps, we have covered all the details regarding the app in this article in a Q&A format. The app's most important features are mentioned below to help you get started.
Is CoinPoker Legit?
Yes, CoinPoker is definitely legit. As the casino is based on blockchain, it is operated by smart contracts. This adds to its features as it is impossible to scam anyone and is probably safer than licensed casinos.
What Are CoinPoker Security Features?
The are many features that the player can use on CoinPoker. This is probably one of the very few gambling sites that blockchain secures and uses smart contracts. You can verify your identity through Civic, which is a third-party app.
What Are the Casino Features in CoinPoker?
Unfortunately, there are no casino options available on CoinPoker however, video poker is available. After going through their site, we found out that casino games will be coming soon, and we will review it for sure if anything changes.
What Are the Sports Book features Available on CoinPoker?
Recently CoinPoker added sportsbook features to its app. This option is available on their mobile app. CoinPoker offers Tier 1 that competes with big gambling sites, and you are allowed to move your bankroll using BTC, CHP, ETH, and USDT. Similar to other apps, they offer the same markets, sports, and games. Users can enjoy play-action and pre-game, and players are also allowed to switch between decimal fractions and American odds.
What Are the Poker Features Available on CoinPoker?
CoinPoker primarily focuses on Poker. Everything is offered that you would find on any other app, including micro stakes cash games for OFC Omaha and NLH. CoinPoker also offers private games with high stakes and an in-and-out SNG format known as cosmic spins.
The app offers decentralized shuffling using a blockchain random number generator. For players who do Community Contributions in CHP, a 20 percent rake back is also offered by the app. This makes the app accessible to players and keeps its site low cost. Community contributions to CoinPoker are as follows:
Tournaments – 7 percent
Cash games – 3 percent
OFC – 2 percent
Cosmic spins – 5 percent
The platform is well organized and simple. Everything is easy to grasp and fairly easy to find. The app loads data quickly and is fairly smooth. The mobile app is comparatively much better than its web app version.
As already mentioned, the app works on the blockchain, so it is transparent and secure. It is a great feature for those players who like to keep their info private. You are allowed to communicate with other players using the chat feature on its app. It is a great app if you are looking forward to building a poker community. The platform allows you to customize visual settings change colors, card community skins, and table color.
How Does the Registration Process Work At CoinPoker?
Registration is fairly simple once you have downloaded the app. You have to put in a valid username, email, and password. Then you have to confirm that you are human and agree to all the terms and conditions. After your email and ID are verified, a third-party app known as Civic will send a text to your phone. You don't need to put in your phone number, address, driving license, or anything of that sort!
Promotions on CoinPoker
CoinPoker offers some great promotions that greatly enhance your gameplay. As already mentioned about the rake back, but that's not it! All cash tables are given the Bad Beat Jackpot promotion. The promotion is funded by a percent of the community contributions generated from cash tables. In order to qualify for this promotion, there are some conditions:
minimum 3 players should receive cards at the start of the hand
It should go to a showdown.
It must be the first run of community cards.
Both were losing, and winning players must use two hole cards to make a qualifying combination.
In the case of four of a kind, at least two-hole cards should make a pocket pair.
Cosmic spins get you in prize pools 1000 times the initial buy-in. You have to choose to buy in and count tables and wait for two more users, and Cosmic Reel spin appears. Five percent rake apples on all the stakes. A leader board promotion is called Galactic Grounder. It rewards about 150 players every week with a share of 3170 USDT in prizes. You are given a referral link to give to your friends. When two players join through the link you provided and earn at least 2USDT in Community Contributions, you are given 30 percent of their total amount.
Customer Service at CoinPoker
CoinPoker provides you with a chat feature for customer service, unlike many similar apps. You can also ask questions through email or telegram. It is super easy to access telegram through the lobby, and it connects you to the team instantly.
What Are the Payment Methods at CoinPoker?
Deposits can be made using your crypto wallet. A deposit cannot be made if you do not own a private key. After you have entered your wallet address and selected the amount of currency, your wallet is verified. Cryptocurrencies used in CoinPoker are USDT, BTC ETH, and CHP.
What Are the Withdrawal Limits and Withdrawal Speed at CoinPoker?
Withdrawals can only occur through the app. Your account tells you the amount available for withdrawal. In the case of withdrawing Bitcoin, the limit is 1000 CHP. A small conversion fee is charged if you want to convert CHP to BTC. As for the withdrawal speed, Tether CHP and Ethereum are instant. Bitcoin, however, takes comparatively longer to withdraw.