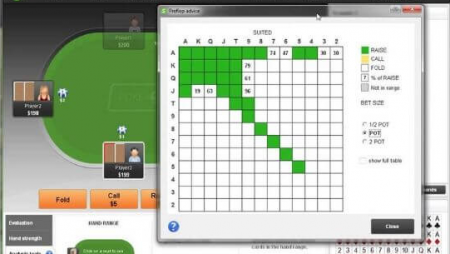 A beginner poker player usually evaluates himself extremely primitive: he won – well done, and lost – it means a fool. However, for a successful career as a poker player, it is important not only to occasionally win, but to understand why one time the tactic worked and the other time it didn't.
In most cases, a beginner does not have an experienced advisor who will chew all his mistakes and tell him how to do it in order to show more acceptable results. If you don't have such a mentor, use PokerSnowie – this miracle of engineering will become your professional coach!
Working principle and functions
The software is based on the optimal game theory, so it "clears up" even in situations where you yourself played very well. It will never spare you, pointing out the slightest mistake or miscalculation, and always striving for the ideal, so even confident players will be interested in assessing their skills using PokerSnowie. All you need to do is load your hands into the program and let the software analyze them.
In response, the software will display the following information:
where and what you made a mistake;
how often you make mistakes, and how much artificial intelligence evaluates you as an adversary;
how the EV fell due to your ill-considered actions.
PokerSnowie will describe each mistake in detail, indicating what the ideal player's actions in this situation look like. Gradually, you will begin to memorize more and more decisions, which means that you will pump your own skills.
The most daring ones can challenge artificial intelligence and try to play against PokerSnowie. Since this is an ideal opponent, it is almost impossible to beat him, but considering that he teaches you on your own mistakes, this is not a waste of time, but an opportunity to train with a strong opponent without losing anything to him.
How much does a license cost?
The first 10 days are given to the newbie to try out the trial version so that he can try all the features of PokerSnowie, evaluate them and make sure that they are worth paying for. Next, you have to choose which of the three versions to choose – a monthly license can cost less than $3 or more than $19.