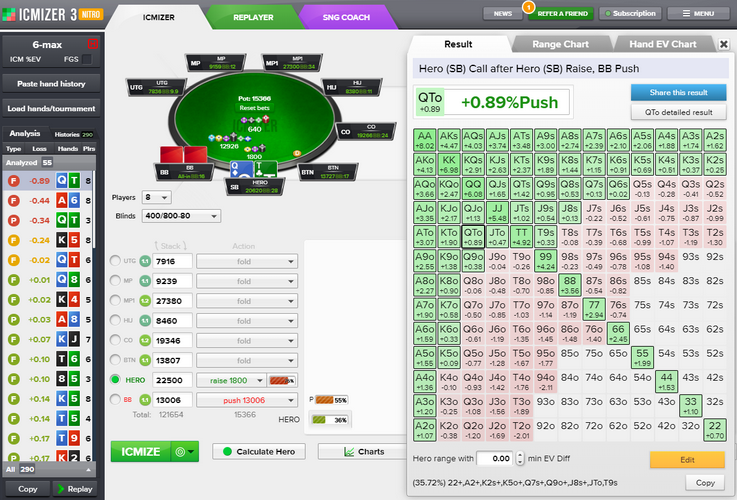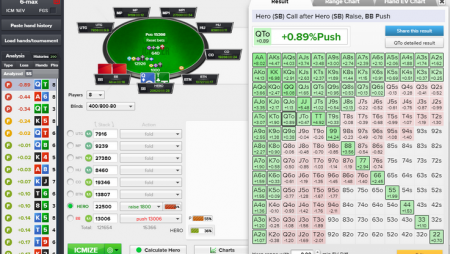 Poker calculators are generally regarded as beginner software because in most cases they only roughly estimate your chances of winning. ICMIZER 3 is an order of magnitude more complex application, as it is designed to simulate various tournament situations with specific advice on how to proceed right now.
It is not without reason that poker is considered an intellectual game – it is comparable to chess, since the player needs the ability to build a long-term strategy and have a mathematical mindset. You will not need all this, as well as a subtle analysis of the current situation or complex calculations – ask the current situation at the tournament ICMIZER 3, and he will explain what actions should be taken and why.
Please note: software opened in parallel with the showroom can easily cause a ban from the site, and this already says a lot about the success and thoughtfulness of the program. By the way, even the threat of a ban will not be a hindrance for you if you open the application on your phone while you are playing from your PC.
What is ICMIZER 3 SNG Coach?
Using a calculator of this level during the game is considered a direct violation of the rules of any self-respecting tournament, but no one bothers to use it in your free time as a simulator. In this mode, the software simulates various game situations, supplementing them with questions that need to be resolved.
If you fail, it does not matter – as mentioned above, ICMIZER 3 SNG Coach will explain what you are wrong about, how it should have been done, and why. Regular practice will lead to the fact that sooner or later, according to the logic of thinking, you will begin to approach the ideal player who never makes mistakes, and will be able to beat everyone in a row.
How much does it cost?
There are two types of subscriptions: basic, which analyzes only the game with specific parameters, and pro, which has training functions and can parse downloadable hand histories. They cost, respectively, 15 and 30 dollars per month, but it is more profitable to buy a subscription for a year at once – for 80 and 160 dollars, which will be more than half the price.