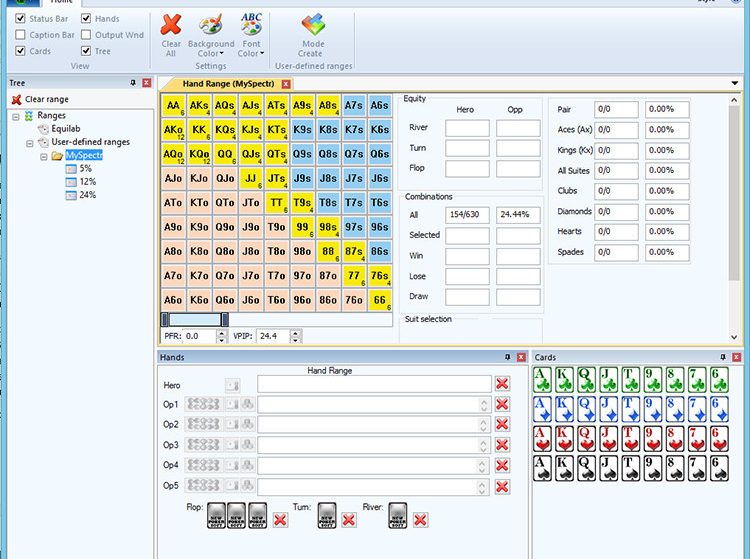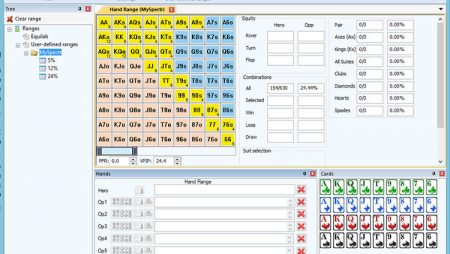 If the deck is short and you won't be able to play for a long time, then it is very important to have an adequate idea of ​​equity – both your own and your opponents'. To constantly calculate it with scrupulous accuracy, you need to be a genius or a very experienced player, while beginners can only use the latest developments from the leading developers of poker software. In particular, their brainchild CombCalc6Plus will allow you to always be aware of what kind of cards your opponents are holding.
What can CombCalc6Plus do?
It may take a long time for the user to fully study all the functions of CombCalc6Plus, but it is worth spending it, because the program is really useful. If we talk about those functions that will make you think about buying a program, then we cannot fail to mention the following:
calculation of the spectrum of any of the party members;
saving the calculated spectra so as not to recalculate them after each move;
separate calculation of equity for each street;
selection of cards by suit for the successful development of game events;
opposing a stronger straight rule than a set.
How to buy a license?
New users are initially offered a two-week trial period, after which they will have to pay $50 for a one-year software license. To buy the program, you need to perfectly master the course of dancing with a tambourine, so read and remember.
Although most programs are paid from within the application itself, everything looks the other way around – first you have to donate for the required amount on the official website, and only then download the application. After downloading and running the software itself, select the "Registration" tab, after which you are interested in the "Request a license" option.
A form will open, which you need to fill out with data, allowing you to understand that you really have already paid for using the software. When all the fields are filled in and the information in them has been rechecked for validity, click the button "Create a license request file" below.
After that, the program will actually create a file with a long and complex name, which mentions both request, and the license, and the name of the program itself. It is him that you send to the online chat on the site, and then you just have to wait.