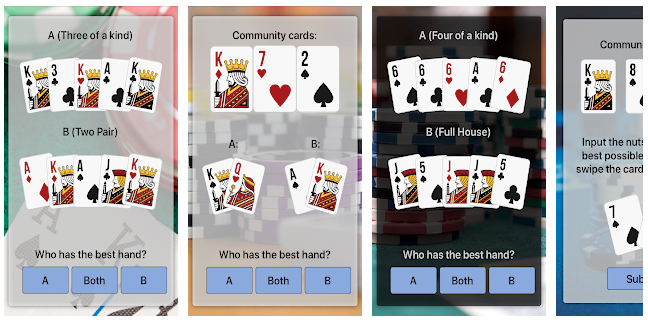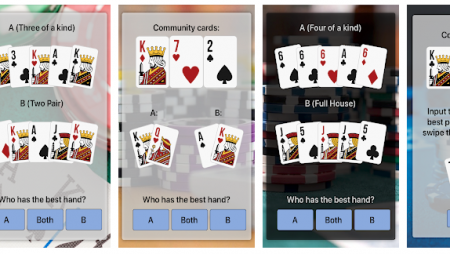 Undoubtedly, poker is one of the most well-loved, most popular card games in the world. People love to play poker as it is easy to learn. With so much popularity, many mobile apps have been developed for people who want to play poker.
You will find so many apps of poker on play store and apple store, but not all of them are worth it. You can find many decent poker games as well. If you are interested in learning poker through gaming apps, this article will be really helpful for you.

Learn Poker
You have no previous experience of poker? Don't worry. This amazing game is a great fit for beginners. With this mobile game, you will learn how to play poker easily. You can learn all the basics with offline players first and then move to the online world.
This app includes a poker tutorial in which you can get training about everything. You will also learn how the split pots work and who can win the game. The game is available in multiple languages making it easy to digest for players around the world.
Review: The app makes learning poker easy for people who are not fast learners. I, myself, felt great ease while playing it. The learning experience was convenient overall.
---
How to Play Poker
You will learn the basics to advance poker tactics in this gaming app. You will grasp various things offline, like learning pot splitting, working on a side pot, how to bet rules, who will win the game, and even hand analysis.
This app will help you by giving lessons on the basic information and all the tactics that one needs to know to play this game. You will learn the probability and poker odds. Get this poker gaming app for free on play store.
Review: This game doesn't include an in-depth explanation so some of the rules were not clear to me. You must have some knowledge already to understand it well. Overall, I loved the graphics, and the handholding is so fascinating that it doesn't look fake.
---
Learn Poker with 9stacks
Regardless of your your skill level is, you can strengthen your poker playing competence with this app. You can brush up the logics through animations and videos. You will learn different strategies and visual memory to develop your skills.
This game will improve your skills by various activities which include, quizzes, video clips, poker demo play, and understanding the concepts through animations in every step of the game. You can play it for free even when the internet connection is not available.
Review: The concepts given in the game are short and to the point. Anyone can grab and digest the basics within a short time. If you are a noob in poker, this gaming app is the right choice. I personally loved the explanation in the form of videos and animations.
---
Poker Trainer
You will learn everything about poker in this app regardless of which skill level you are at. You will grab training exercises for Texas Hold'em. You will learn poker hand ranking and reading, understanding poker odds and how to calculate them, learn to recognize how to find the best hand out of three and much more.
This game is satisfactory in the sense that there are training exercises both for trainee and advanced players. This app has broken down the game into several small parts that have made the practice and understanding of the concepts a lot easier. You can even replay your mistakes to learn from them.
Review: This app actually helps you track which level you are at and then assists you to improve the flaw. The preflop, however, was not up to the mark. Apart from that, everything was smooth and easy to catch. It is a fine app for people who want to develop poker fundamentals.
---
ATHYLPS
The tracking practice is the best in this game. With it, you can find out how many mistakes you are making within the given time, track the average time in giving an answer, and correct/incorrect answer ratio. You can take practice exercises to improve your skills.
Clear descriptions of all the game stages along with an example will be provided. You will learn basic skills through exercise and will be able to track results at the end.
Review: You can start it for free but need to pay for a pro version. It sometimes gives wrong answers which are not acceptable at times. Apart from it, the app is good.
---
Poker Calculator
This is a free tool that calculates Poker odds correctly for given player hands. You can get the results really fast. The calculator will take all the possible combinations into account and give you the exact results.
You don't need to correct the threshold settings or margins manually. Evaluations will be running in the background. After calculation, the calculator caches hand results. You can calculate the poker odds for an unlimited number of players.
Review: The app consumes a lot of battery, but it is worth it at the end. The calculations it does are correct most of the time, but still, at least I cannot rely totally on an app.
---
Poker Hands
With this app, you will learn how poker hands and poker ranking work. You will learn and see the difference between all the poker hands in this game.
You will learn about the game in a poker chart overview. The graphics on the poker chart will explain the complete rules of the game and some extra tips as well. You will learn about each poker hand by clicking on the combination of poker hands.
Review: It explains really well. The instructions are clear and easy to grab. The only thing I didn't like was lots of ads which made the app difficult to run.
---
Poker Coaching
It is a useful app for beginners where you can learn and improve your short stack skills. The strategies given in the app are easy to be picked by the players of all skill levels. It will give you maximum equity when you are short-stacked.
This app improves your poker skills by conducting various quizzes, video classes, and webinars. Preflop GTO charts will help you in making better decisions from every position. You can learn poker skills in any form you like through this app.
Review: The graphics and the learning plan is overall great, but the app behaves terribly at times. The quizzes and GTO charts are a great help. I had a good overall experience with it.
---
Poker Odds Calculator
You can become a poker star with this poker odds calculator. The app will calculate the poker hands and will help you in learning poker hands.
You can use this app online and even offline when you do not have an internet connection. The app can be used for free. You can improve your skills by using this Poker Odds Calculator.
Review: The app is overall amazing. Some features are not working properly, and I had not so great experience with it. The calculator, however, works fine.
---
Poker Hands and Combinations
This app is not for learning. It will help you in remembering the poker combinations. It is basically a cheat sheet which you can use when you forget the poker combinations.
The app has clear illustrations and simple design making it easy to use. You could always just press the "refresh" button and get more examples for every card. You can also click on the cards to see more examples.
Review: I've been utilizing this cheat sheet to kill time and had a great experience with it. You can easily find all the poker combinations in it. This app is helpful if you keep forgetting the combinations.
---
Poker Offline
You can learn Texas poker or SNG poker with this app. You can get easy access to the hand guide and will be able to learn all the rules through it very easily.
You can enjoy the real looking graphics, animations and sound effects without registration. You can play the game offline or play tournaments with people around the world. You will get the opponent player according to your skills.
Review: The offline game is super fun. The game is decent, and graphics are even better. Good for anyone who wants to learn and enjoy this game.
---
FAQs
Is it easy to learn poker?
It is a game of strategy which can be easily learned. You can master this game with practice and experience.
How long online poker games last?
It depends on your skill level as a player. Usually, a tournament lasts for an hour but it may take several hours as well.
Is this game worth learning?
It is a great game to learn. It boosts your mathematical skills. You can even make pocket money with it once you have strengthened your skills.
Is it a profitable game?
Yes, this game is highly profitable. People are spending so many hours on it to improve their skills and gain more from it.
Can poker make you rich?
Yes, it can. But the fact greatly depends upon the type of people you play games with and your playing skills. If played consistently, you can make a lot of money from it.
How often does a poker player win?
The chances are 60% once you get to higher stakes. The percentage increases as you move to micro stakes.