Pros
Great mobile experience
Very Soft Games
Agent cashier with cryptocurrencies
Unique clubs around the world
Cons
High stakes tables don't run that often
Unlicensed site
Not available on MAC
The latest edition to the app market poker is X-poker. The first version of X-poker was released in 2020 and became very popular in the poker communities of Asia. If you have tried Poker Bros, X-poker will seem familiar but with distinct features. X-poker was primarily developed by some trained programmers and poker fans.
Anyone can make a club and play money games that are totally free on X-poker. A variety of game formats are available, which can be played on an iPad, iPhone, Android, or a PC using an emulator. There's not much traffic on X-poker as it is fairly new in the poker market; however, it is expected growth.
In this article, we have covered all the information in a Q & A format to get you started, so keep on reading to have a closer look at X-poker's most important features.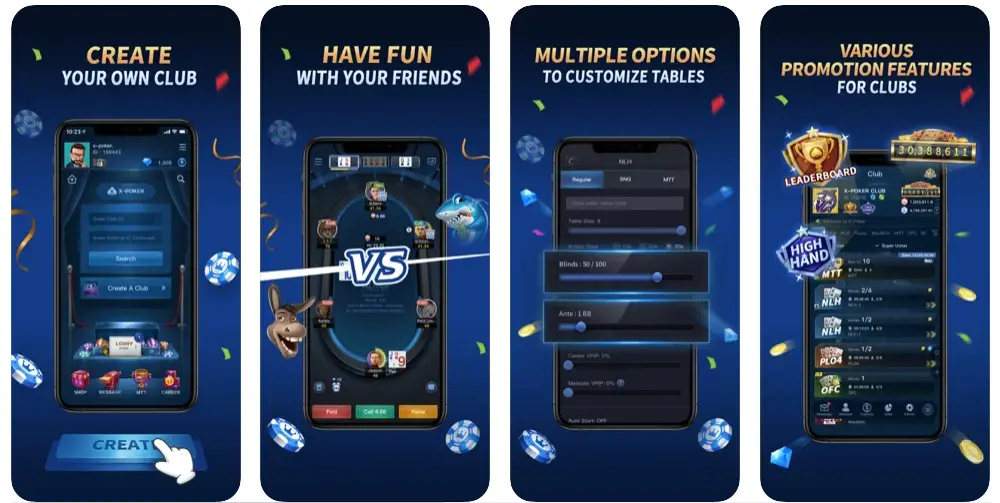 How Can You Sign Up on The App?
Signing up on the x poler app is fairly easy. You have to go to X-polker.net, download its app and get yourself registered. Once you are registered, you will be able to join a club and start playing after your first deposit.
How Does X-Poker Work?
It is a decentralized app which means that money transfers are managed by X-poker clubs and trusted agents. The agent model utilizes a play money platform, which works similarly to other poker apps. The model does not have a specific operator which may organize games or guarantee winnings.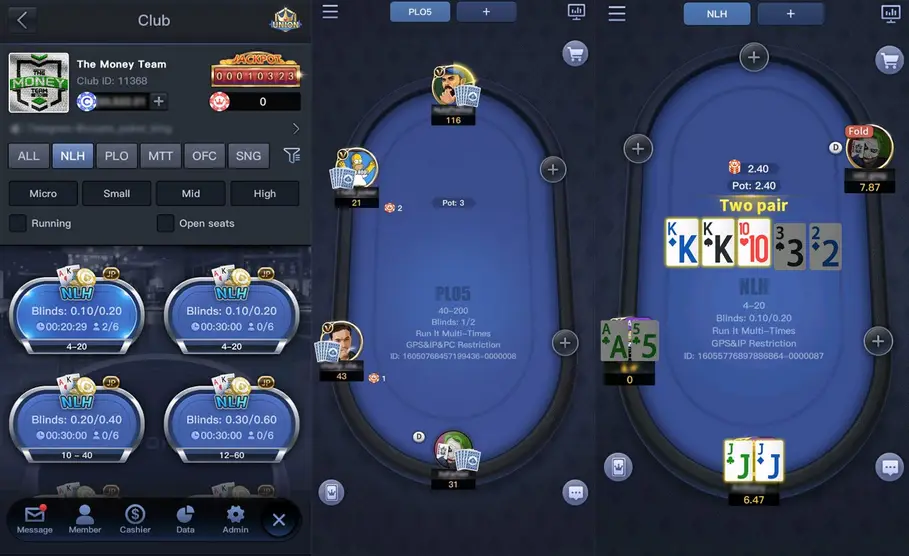 The app only provides the platform for playing and does not offer poker services that include real money. The poker chips in the app do not have a monetary value as they are play money chips. Once the chips are won, you are able to get real money according to the chip value from each club.
Club owners can create Unions to create bigger tournaments and pools. In order to play, virtual chips can be purchased by the agent that allows you to play at the tables. You are paid by the chip ratio that your club uses. The agents settle the account every week, and a small amount is charged for playing. Bitcoin Ethereum and USDT are among the most popular form of payment methods used. You are also allowed to join several clubs in order to win more.
Why Do Poker Players Love to Play X-Poker?
Some of the key reasons observed by us, that makes X poker interesting and fascinating to poker players include as:
Has softer games than other online poker rooms
Competitive rake than other poker apps
Has amazing social features
Easy to play poker anywhere using your phone
You are able to play with players around the globe
Several popular games such as Texas Holdom and Pot-limit Omaha are available
What Does A Club Look Like?
Once you have joined an X-poker club, you will see a list of tables that are available. You will find the number of players and the game format used on each table. You can play your preferred game with a few clicks.
What Are the Features, Interface, and Aesthetics of the X-Poker App?
Skilled programmers have created the app at Funny game that owns the copyright to the app. You will find a state of the art graphics and several emojis to use while playing cards. Moreover, the app also provides multiple tables for high-volume players. It is swift and easy to switch tables in the multi-tabling mode. Sliders and buttons for checking betting or raising also work fast and smoothly.
What Stakes and Games Can Be Played on the X-Poker App?
The game format that X-poker provides is PLO 5 Holdom MTT OFC and 6+. Low stake players are also able to find various suitable games to play. The softness of the game compensates for the lower player traffic compared to established operators. The playing experience can be compared to the home game played with buddies on the internet.
How much Are the Rake and Rake Back?
The standard structure is % percent with a cap of 3BBs. The club admin or game host sets this structure. It has a no-flop no-drop policy for all game tables and is calculated using the Weighted Contributed method. A volume-based 30 to 40 percent Rake back is offered for players who are looking for rake back.
Are There Any Promotional Campaigns by X-Poker?
Bonuses campaigns and promotions are dependent on the club and what your agent is offering. You might not know these bus promotional campaigns are club-based or dependent. It also depends on what your agent has to offer you. For example: if you sign in through beasts of poker there is a 100% guarantee on any deposit and rake-back deal.
What About Cash Outs and Deposits on X-Poker?
After you have registered your account, you are able to choose the deposit method offered by your agent. Commonly used withdrawal and deposit methods include BTC and other cryptocurrencies.
Can Tracking Software Be Used, Such as PT4 or HEM?
Yes, you are allowed to use trackers and HUDs. However, you cannot use any real-time help or poker solvers to have an unfair edge during the game. You are able to look at the basic stats of a player by clicking on his profile. You are also allowed additional stats if you have a VIP card. VIP cards can be purchased from the shop in-app purchases.
How Can You Join an X Poker Club?
Well, that's is an easy task. All the instructions for login in and signing in are present on the site. You have to go to the lobby view and enter your Club ID and referral ID to join the club. Click search and then apply to open up a new window that will take you to the club owner.
Is X-Poker Legit or Rigged?
X poker holds a certificate that is issued by the gaming labs that ensures the randomness of RNG. The company that developed the app is called Funny games and belongs to the biggest Dutch media corporation called the Talpa network.