Pros
Accepts All US Players
Established History
Mac/Windows/Ubuntu Friendly
Over $100 of instant free bets
Cons
Tournament schedule could be better
Software lacks advanced features
No blocking of HUD users
Venturing into the world of Sportsbetting Poker requires a lot of practice, patience, and faith. While it may be a very exciting, thrilling experience, it can be quite nerve-wracking to take that leap of faith.
So, if you are reading this article, you are probably looking for some guidance. I'll be glad to help you out with that.
You may even have a thousand questions running through your head. "What is Sportsbetting Poker?", "What's it like?", "How is the experience?"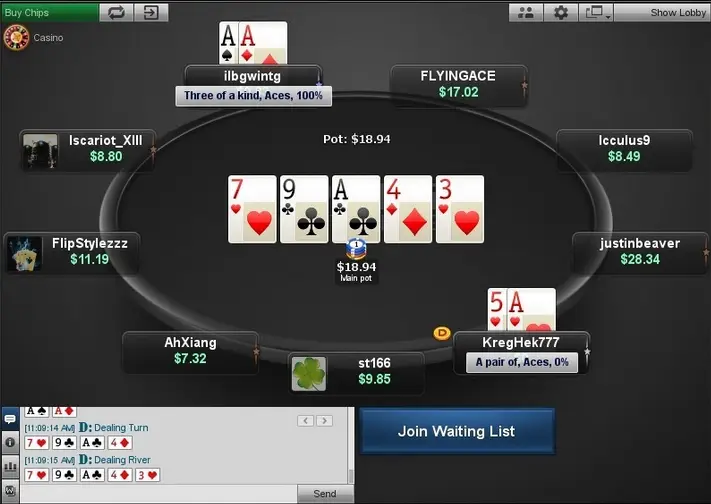 If you are a first-timer, let me tell you that Sportbetting Poker is a super US-friendly poker site with many softer poker games. It was founded and supported by the Chico Network.
Moreover, you will also find that it has a lot of traffic, thanks to the amazing deposit bonus. This site is also a legal alternative for other well-established poker sites that may have a ban in your location.
Either way, you will realize that Sportsbetting Poker is the right site for you by the end of this review. So, let's get started!
How are the Games and Software at Sportsbetting Poker?
As mentioned before, Sportsbetting Poker receives a lot of traffic, which means many users utilize their services. However, the site incorporates the help and support of a proprietary poker network.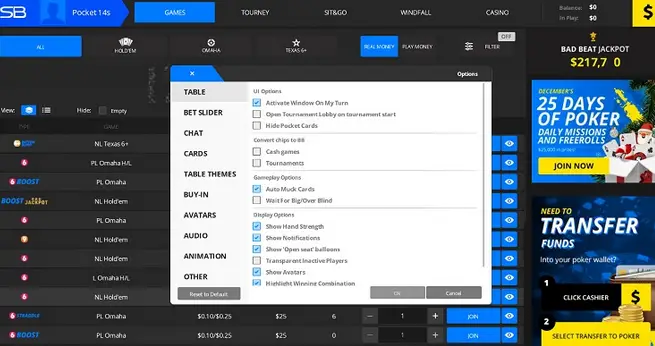 Initially, Chico Poker Network ran the site. It may be a familiar name to those in the poker business.
Currently, Sportbetting Poker uses the same network as BetOnline. It also happens to be one of the largest, most popular sites for betting in the US. Therefore, Sportbetting Poker has the same management as BetOnline.
What are the Rake and Rakeback Deals?
A player's contribution to the prize pot is what determines the rake share on cash tables called "weighted contributed." Usually, this is 5.5%. However, the rake percentage with Sportsbetting Poker is slightly higher than most average poker rooms.
| | | | | |
| --- | --- | --- | --- | --- |
| Stakes/Players | 2 | 3 | 4 | 5+ |
| Up till NL/PLO50 | $1 | $2 | $2.5 | $3 |
| NL/PLO100, 200 | $1 | $2 | $3 | $4 |
| NL/PLO500,1K | $1 | $2 | $3 | $5 |
The usual charge for MTTs is 10, but for SnGs, it is 6/10-maximum. For Spins, the fee is 7%, and for HU SnGs is 5%.
If a table gets the JP tag, that means the room has an additional jackpot fee of a minimum of $0.10 and a maximum of $0.50. It applies for every $4 in the prize pot.
What are the Bonuses?
Everyone loves receiving a special bonus. And like a first-time bonus, a special bonus can help you get started on the site.
That's why Sportsbetting Poker offers the newcomers a special welcome bonus that exists as a full 100% bonus that adds to your first deposit. The maximum value here is $1000, which you can get by making a higher deposit.
What are the Tournaments?
Challenges and tournaments always add an element of excitement to a poker game. Moreover, winning these is a way to win extra cash. Unfortunately, with Sportsbetting Poker, this is their weakest feature.
It may be a haven for beginner players, but for professionals, it can be quite monotonous. Therefore, you might want to look elsewhere for tournaments.
Is There a Mobile App for Sportsbetting Poker?
Yes, absolutely! Sportsbetting Poker does have a mobile app that is available on Android. And the best part is that the experience on the mobile app is just as amazing as the PC experience.
You can also simply download the app on your mobile's home screen and start instantly playing. Either way, you can be sure to have a brilliant gaming experience on PC and mobile devices.
How to Make Deposits/Withdrawals?
With Sportbetting Poker, you can choose to deposit via the conventional way by using a Mastercard or Visa. However, you will need to make a minimum deposit of $50 here.
However, the site has also included Bitcoin, Ethereum, and Litecoin as accepted payment methods. You can even start with small amounts of $20 using these cryptocurrencies.
For withdrawals, the website does not allow Mastercard and Visa. However, you can still use the other three options with a service fee. But you can make free withdrawals every Friday, and each player can do this once every month.
What are Their Regular Promotions?
Initial deposit offers for first-time users can make them feel very welcomed. However, in order to retain their older players, the site also provides promotional offers that appeal to everyone.
Cash Game Leaderboard
It is a weekly contest for the user, where you can see a $10,000 cash race put up on the leaderboard. In this contest, you will earn 1 point every time you make a $1 payment in a ring game as a rake.
By the end of the week (usually, 11:59 am till Sunday noon), all the top competitors will huddle up to check the prize pool. Since there are only three divisions (on a blind level), you still stand a chance to win with even the lowest stakes.
SNG Leaderboard
Suppose you are an SNG fanatic; this one is for you! This leaderboard offers rewards of $5,000 to the best 50 winners by the end of the week.
There are two sections: one for the usually SNG games and one for Windfalls. Every leaderboard starts on Sunday noon and ends at 11:59 am on the following Sunday noon.
Sportsbetting Poker: Legit or Fake?
After a lot of thorough research, we have not found any poker-related scandals with the Chico Network. There are very few negative reviews, and most of them talk about how great the cashouts, rewards, and overall experience has been.
Overall, this website appears to be the real deal and does a neat job of keeping most of their customers satisfied.