Pros
Cash games and MTTs
Top rakeback deals
Withdrawals via cryptos within 24 hours
Great action available 24/7
Smooth mobile software
Cons
No landscape table orientation
Unlicensed site
No way to sit out next blind
PPPoker Review
PPPoker is an online social gaming site that does not provide any real money services. Folks who have heard it for the first time should know it is the biggest market disruptor in the poker industry. You can think of poker as cryptocurrency is the too outdated banking system. Ace King Tech Limited developed the platform. PPPoker offers you unique features that were never offered by any traditional poker site you have been to.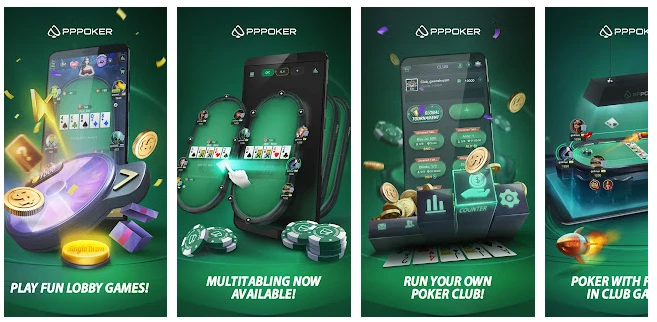 After the successful launch of PPPoker, it has gained much popularity among poker players. PPPoker allows organizers to create their own clubs and play with friends online. The cash games that are played in private clubs at PPPoker are real money games. Initially, PPPoker was launched to accommodate Asian poker communities.
At the time of the launch of PPPoker, they were competing with big brands like Poker Bros. today, PPPoker has dominated many markets of Poker Bros and its popularity across Europe, Asia, South America, and North America. Most users you will find at PPPoker are from China which makes the game easier to play as most of them recently started playing the game. As the operating model of the app is a bit different than traditional poker sites, we have covered all the information in a Q and A format.
How Does the App Operate?
The app is primarily a decentralized poker app, which means that no specific operator organizes and guarantees the payments on the app. There is one primary difference when you compare this with real money operators. Chips virtually have no value and are play money chips; however, this is not the case.
On PPPoker, you are offered to form unions that club owners can form. This is a great feature because you can play with various people belonging to different clubs. If you do multi-tabling, you can create several accounts as multi-tabling by one account is not offered.
The app allows you to form a club in which players are allowed to play against each other. You can purchase virtual chips and give them to players against chip value. Club owners charge a small rake for their host services. Accounts are updated weekly, and the form of payment depends on what you are most comfortable with.
When you decide to start playing, you must find a good agent that has access to clubs where there is soft action. You can get the services of PPPoker agents by searching Facebook.
Why Is the App So Popular?
You can play PPPoker even if there are regulations on poker in your country. Many countries have imposed taxes on poker winnings which have motivated many players to shift to PPPoker. The rake charged at PPPoker is comparatively very low as compared to any other poker site Various payment options are available at PPPoker that has motivated many players to shift to this app.
How Does a Club in PPPoker Look Like?
The interface is user-friendly and interactive, and the information is presented neatly. When you open the app, you are able to see a list of clubs that you have joined. The info provided tells you about the club's name, union details, and tables. It is super easy to navigate through the lobby, and various sections of the club can be accessed with just a few clicks.
How Does PPPoker UI Look Like?
PPPoker has one of the best interfaces and a great user experience. The best part of PPPoker is that it is constantly updated and has great customer service as most players play on mobile devices, so the app is specifically optimized to work best on Android or iOS. On test trials, our players described it as reliable and straightforward. You are also offered to play on your PC as a desktop version of the app is also available.
PPPokers provides you with the perfect portrait view, and you don't have to tilt your mobile phone while choosing a table or during gameplay. This makes the gameplay very comfortable for the player. Features of PPPoker are super easy to grasp, and it won't take a newcomer more than 10 minutes to become familiar with the gameplay. Whether you are a newbie or a pro, you will find the app to be very user-friendly and comfortable.
Does PPPoker Allow Tracking Software to be used?
PPPoker, although it does not allow the use of tracking software officially, you can click on a player's profile to see their basic stats. The game action isn't that great, so players who are more comfortable using tracking software can easily adjust to the gameplay at PPPoker. You can view your stats, and by purchasing a black card from app purchases, you can also view other players' stats.
What Are the Games and Stakes Offered at PPPoker?
Different clubs use different chip values; for example, a club with players from Europe has a chip equal to 1 EUR, and Thailand based club will have a chip equal to 10 THB. Indian clubs offer various chip ratios from INR 5 to INR 50.
Currently, four poker variants are offered at PPPoker, including No-Limit Texas Holdem, Pot-limit Omaha 5, Pot Limit Omaha, and Open Face Chinese. You are also offered MTTs and SNGs at PPPoker. Depending on the action and formation, an SNG table will have 2 to 10 players. Every table has 12 hours limit, and the table will automatically close if it exceeds the limit.
Unlike other poker sites where all players are on the same platform, PPPoker is decentralized. This allows players to change the format and play in another club. Clubs are also offered to form unions that allow players to play with other players belonging to other clubs.
How's The Rake and Rake Back at PPPoker?
PPPoker has different policies for rake back; however, the max a club owner is allowed to charge is 5%. As for rake back, club owners may offer huge rake backs depending on the club. You may be surprised to see that club owners give 50 to 80 percent rake back on PPPoker.